Few days of the NFL regular season get as much attention as Thanksgiving, and this year's trio of games should keep fans excited.
Out of the many notable matchups to come out of Thursday's schedule release, the three Thanksgiving NFL Day battles in Week 12 are among the most intriguing. Each game is a divisional battle, adding an exciting NFC South rivalry to the usual suspects of the Cowboys and Lions.
Here are the turkey day battles to watch in 2018, via NFL.com.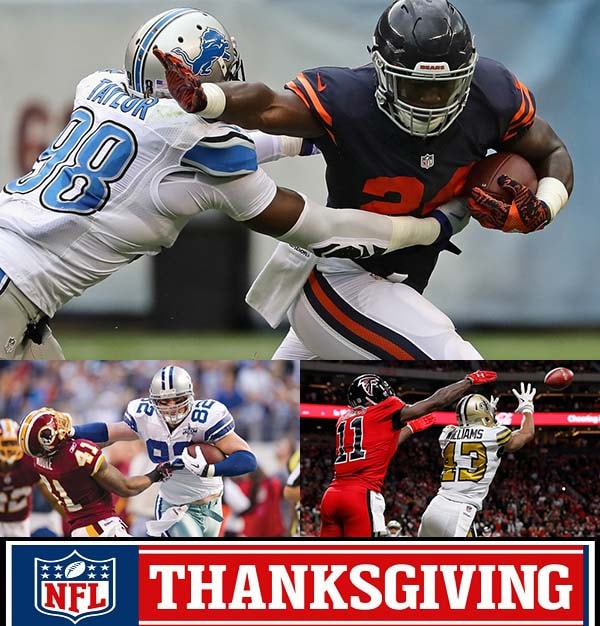 NFL Thanksgiving 2018 Schedule
Chicago Bears vs Detroit Lions—12:30 p.m. ET on CBS
Washington Redskins vs Dallas Cowboys—4:30 p.m. ET on Fox
Atlanta Falcons vs New Orleans Saints—8:20 p.m. ET on NBC
Lions vs Bears (12:30 p.m. ET, CBS)
This has turned into a rematch of an ugly game from Week 10 — the Bears mostly manhandled the Lions before Detroit made a late comeback to pull within 12 points. Matt Nagy has his team in great shape, sitting at 6-3 and in first in the NFC North. With two games remaining against the Vikings, Chicago doesn't have a whole lot of room for error if it wants to win the division, making this road trip to Detroit a pretty enormous matchup. The Lions, who are struggling badly this year and fell to 3-6 after losing to Chicago, have been impressive on Thanksgiving in recent years, going 4-1 over the last half decade.
Defensively they leave a lot to be desired right now: Detroit ranks 28th in points per game allowed and 27th in yards per play allowed. Both teams have new coaches, with Matt Patricia leaving the Patriots to join the Lions and Matt Nagy leaving the Chiefs to join the Bears. Patricia's team is probably a long shot to make any sort of playoff run at this point — they even dealt Golden Tate at the traded deadline — but holding serve at home against a dangerous Bears team would be a nice little injection of hope for a beat-up fanbase
The Bears want Mitchell Trubisky to keep developing; he already lit up Patricia's defense in Nagy's scheme and the return of Allen Robinson, who has been battling a groin injury, benefited his game greatly.
Chicago needs this game to keep making a run at an NFC wild card as well as the NFC North title.
Cowboys vs Redskins (4:30 p.m. ET, FOX)
Enormous implications in this game for the playoffs, as Dallas decided to pull an Undertaker and rise right back up off the mat and into the NFC East and NFC wild card discussion with a victory in Week 10 over the Eagles in Philadelphia. That game sent both those teams to 4-5, while the Redskins went down to Tampa and surprised some people, picking up a victory despite — giving up 500 yards! — and moving to 6-3. Heading into Week 11 they were two games clear of their division rivals and could potentially deliver a knockout blow to Dallas with a win on Thanksgiving in Jerry World.
This is a pretty ideal way to shake off a turkey/gravy coma.
Oddly enough, though, it'll be a defensive battle. The Cowboys offense got a nice boost from the addition of Amari Cooper via trade at the deadline, and Ezekiel Elliott was dominant in Week 10 against the Eagles, but it's still Dallas' defense that's been the story so far this year. Rookie linebacker Leighton Vander Esch has been a revelation filling in for Sean Lee and Jaylen Smith continues to be an impact player on the field after taking a redshirt year to recover from a brutal injury.
Washington unquestionably is better on defense, especially now that they're short on the offensive line after injuries ravaged them. It's possible Trent Williams is ready for this game. One thing to watch: Adrian Peterson always runs well against teams he believes slighted him in any sort of way. The Cowboys qualify because he flirted with Jerry Jones publicly when it looked like his run in Minnesota might be up, but Dallas declined to pair him with Zeke.
In their matchup earlier this season, Peterson ran 24 times for 99 yards against Dallas' stout defense. If he crosses the 100-yard threshold in this contest, the Redskins are probably in pretty good shape.
Saints vs Falcons (8:20 p.m. ET, NBC)
Blood feud here with two gentile Southern teams who do not care for one another. Despite the Falcons falling to 4-5 in Week 10 as a result of a loss in Cleveland, this should be a close matchup, because the two teams hate each other that much. The Saints are in the middle of an unbelievable stretch of football being played against an unbelievable stretch of opponents. They won three straight games on the road (Baltimore, Minnesota and Cincinnati) with a dominant win over the Rams stuffed in there as well. And they're coming off a short week against the Eagles in Week 10. Heck of a schedule and New Orleans couldn't care less. Drew Brees is one of the top two MVP candidates right now and has thrown 13 touchdowns versus just 30 incompletions (yes, incompletions) over his last five games heading into Week 11.
Before the season it looked like this might be a de facto division title game, but the Panthers present much stiffer competition for the Saints in 2018 than Atlanta. Still, Matt Ryan is playing really well right now, and deserves at least some MVP chatter of his own, should he manage to insert the Falcons back into the playoff race.
We thought the Falcons defense might develop into a young, stout unit this season, but injuries derailed them and the stars remaining (Vic Beasley) haven't produced at the level people hoped. This could have been an NFC Championship Game preview, but instead it serves as a last stand for Atlanta and for the Saints it's an opportunity to grab the No. 1 seed in the NFC as well as to bury a hated division rival. This game won't be without some drama.